Translating the brand for hospital staff and physicians
Educating team members on how to deliver the brand promise
A strong healthcare brand can have a powerful influence with internal audiences. It helps align employees and physicians to the company mission and provides common goals for care and a positive patient experience. When the management team, marketers, and frontline service personnel are clear on the organization's core values and what makes it different, they can think, act and react to reinforce the brand promise.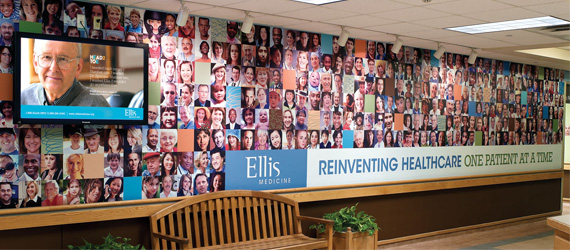 Share success stories
Some of the most compelling and memorable examples of a hospital's branding comes from the everyday lives of employees and patients. Whether it's a staff member who went beyond the call of duty to assist a coworker or customer (patient, that is), or a patient's experience that exemplifies the best the organization has to offer, there are real life episodes of the organization's purpose happening all the time.
Talk to department leaders to identify recent events or successes, and find ways to share them across the organization. Positive role models help employees understand and embrace the brand position.
Provide frequent reminders
It's one thing to promote your competitive position to the public, but it's also important to share the same ideas and messages with your team, staff and physicians – and do it often. Hospital environments are busy places. There are frequent distractions. People have bad days. It's easy to lose sight of goals and ideals when faced with everyday dramas. That's why it's important to make the brand promise visible and keep reminders throughout the workplace.
Marketing channels inside the hospital or practice, what we call owned media, offer virtually endless opportunities to translate brand positioning, share core values and model behavior to consistently deliver the expected patient experience. Using creative placements in the care environment, from hallway posters to screen savers, marketing can help remind everyone of the organization's promise.
For more on communicating to internal audiences, download the white paper: