Medical apps present new opportunity for healthcare brands
Health-related apps help patients manage medical conditions
Currently, there are more than 40,000 medical apps available for smartphones and tablets.  While mobile apps are often used in gamification, they are strong enough to stand on their own. Many patients are using mobile apps to find health information and manage their health or medical conditions such as diabetes and weight loss.  According to AlliedHealthWorld.com, the number of people downloading health apps nearly doubled in 2012. This rapid growth in the use of mobile apps has companies racing to capitalize on the trend, while other organizations seek to protect patients through regulation.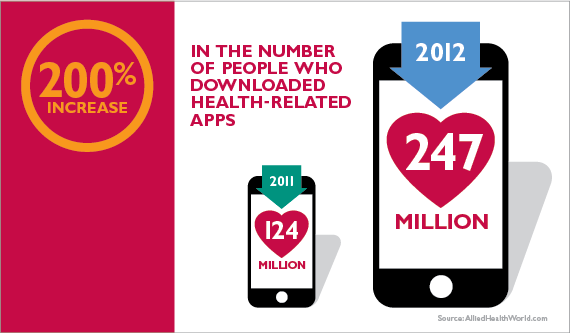 FDA reviews mobile apps to protect patient privacy
With so many apps available, it's hard for the average consumer to know which apps are reliable for health information. The U.S. Food and Drug Administration (FDA) hopes to start reviewing medical apps in order to protect patient health and privacy.  As of now, the FDA has cleared a few apps for distribution as medical devices, but it doesn't have any mobile app guidelines in place for developers. Two apps that the FDA has cleared for distribution as medical devices are WellDoc DiabetesManager and MobiUS™SP1 system, a smartphone-based ultrasound system for second opinions and diagnosis.
MRx: Prescribing mobile apps to patients
In response to the popularity of mobile apps, mobile health application store, Happtique, recently launched a pilot MRx program that will allow healthcare providers to prescribe apps to their patients. Hospitals and physicians can send medical apps directly to a patient's smartphone or tablet, or direct them to download the app from the App Store. Happtique projects that by the year 2014, public and private healthcare providers could save between nearly $2 billion and $6 billion in healthcare costs worldwide by using mHealth technologies for health monitoring.
For more on medical apps, download the white paper