Five Facebook tips to engage hospital staff
Fun and easy ways to align, engage and share news with your staff
Before Facebook, email was used for hospital news, but today, most people have way too many messages to deal with or don't view email as a source for new information. Facebook updates can be a solution to get around email problems and engage your staff on a more regular basis.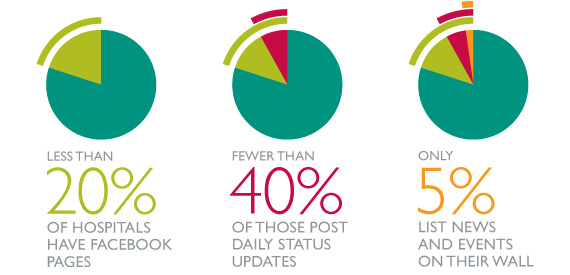 Facebook updates are ideal for hospital news, event reminders and useful workplace information. Almost half of your employees use Facebook, many regularly, and every time they comment on or like an update, it will be shared across their networks and external community. It's a low cost way to get your message out, and you may find some worthwhile contributors.
Here are five quick and easy ways to engage your hospital staff (with minimal time and effort on your part) using Facebook:
Post news about your hospital's mission: photos from foundation events; hospital marketing campaigns; new programs and services; introduce the board, the CEO or new employees; and highlight the hospital's role in healthcare reform.
Share useful, timely or important information about the hospital                  that might be hard to find or not updated on the website. This could include emergency room wait times, a link to the hospital map, visiting hours, or times and location for lectures or classes.
Provide updates on construction and renovation projects. Share photos showing progress and provide details on detours or parking restrictions.
Post the cafeteria's daily lunch specials. When hospital staff click "like" they not only remind coworkers what's on the menu, but also give your cafeteria feedback on what's popular and what's not.
Announce gift shop sales, new items or specials. Another great way to attract staff to your Hospital FB page and drive traffic to the gift shop.
How is your hospital or physician practice using Facebook to engage staff and community? Leave a comment to share your ideas and best practices.