State of the American well-being and access to care
More Americans with health insurance, but a gap in who can afford care
If you live in Florida, California, Colorado or Texas— congratulations. According to the latest report from the Gallup-Healthways Well-being Index you live in a state with communities that rank highly in overall well-being. In fact, these four states account for 14 of the top 20 well-being communities throughout the country. In contrast, if you live in Ohio, this state houses five of the lowest 20 well-being communities. Ouch.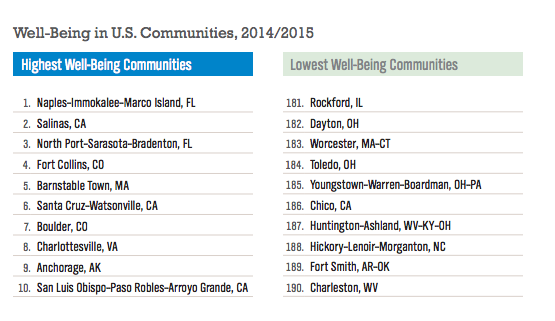 How is this data realized? Part of an ongoing study, Gallup and Healthways surveyed 190 communities (over 350,00 people) in the U.S. and ranked their well-being based on five core elements: purpose, social, financial, community and physical. High well-being communities represent areas that are exceeding in all five categories. Low well-being communities are lacking across these elements.
The study also provides insight into other aspects of the healthcare industry. In good news, access to health insurance is abundant  — with more Americans insured than ever before. We tip our hats to the Albany, Schenectady and Troy Region, in which 96 percent of the population is covered by health insurance — making it the second most covered region in the U.S.
Then there is bad news. The report found that although there are declines in both food and healthcare insecurities, communities around the country continue to struggle to afford basic healthcare and food for their families. Spartanburg, South Carolina, has the highest food insecurity with 24 percent of the population scrambling to put food on their tables. The Hickory-Lenoir-Morganton Metro Area, North Carolina, claims the highest healthcare insecurity with 25 percent of the population unable to afford basic healthcare.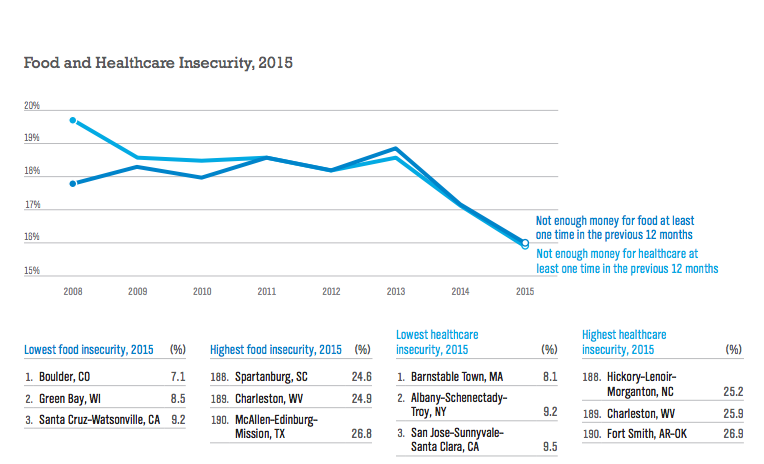 In summation, although our nation is experiencing many positive changes in overall health and wellness (a decline in the uninsured rate, a decline in smoking, an increase in reported exercise, and declines in both food and healthcare insecurity), we still have a lot of work to do.
CEO of Healthways Donato Tramuto said, "Access to healthcare services is not an obligation, it's a right for every single individual on this earth."
Hospitals and healthcare systems can continue to contribute and adapt to this ever-changing healthcare industry by participating in population health initiatives, investing in telehealth or providing more urgent care models across the U.S. And maybe, someday, this ambitious goal can be achieved.