Ribbon Cutting Welcomes Strategic Partners
Burst Marketing and Smith & Jones share Troy office
Burst Marketing, a full-service, strategic marketing firm, hosted a ribbon cutting ceremony on January 15, 2014, to celebrate its move into downtown Troy and its strategic partnership with Smith & Jones, an agency specializing in healthcare marketing.
Rensselaer County Executive Kathy Jimino, City of Troy Mayor Lou Rosamalia, President of the Rensselaer County Regional Chamber Linda Hillman, and Executive Director of the Downtown Troy BID Elizabeth Young attended the ceremony.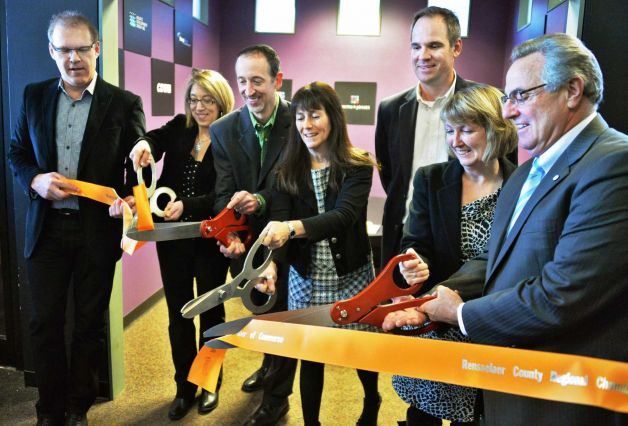 Pictured from left, are: Mark Shipley of Smith & Jones, Burst Marketing's Sharon Lawless and Dave Vener, Sara Tack of Smith & Jones, Burst's Dave Borland, Rensselaer County Executive Kathy Jimino and Troy Mayor Lou Rosamilia.  
Photo: John Carl D'Annibale / Times Union
"There is an energy in Troy right now that is infectious," said Dave Vener, CEO of Burst Marketing. "We are so happy to be a part of it."
Burst Marketing and Smith & Jones share space in an historic building at 297 River Street. Their office was previously home to a bank, furrier, appliance store, and most recently a nightclub, before Smith & Jones took residency in 2001.
In November 2013, the agencies announced they were occupying a shared space and would begin collaborating on client work based on each agency's unique specialties and in-house resources. The agencies have a combined team of 22.
"We're not only excited to be a part of this movement in Troy, but also to be teaming up with Smith & Jones, whose culture complements Burst's seamlessly," said Vener. "I believe that with our combined skill set, we will be a force to be reckoned with."
Read more about the partnership here.