Details make the difference in medical marketing and media
Test corporate colors and reproduction for instant recognition
You've invested considerable time and funds to create your new hospital identity; but is your brand consistent–and instantly recognizable–across all media platforms?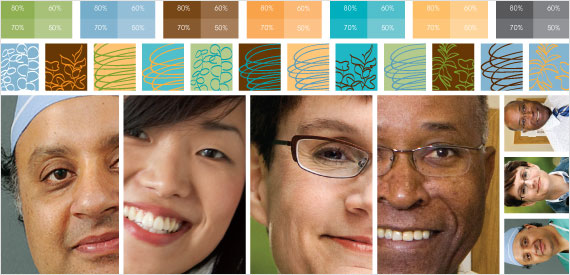 Today's consumers face a constant barrage of logos and brands–just look at an online publication or watch ten minutes of TV. For your brand to stand out and be recognizable in a sea of medical marketing, your logo and corporate colors must be consistent across all media. Attention to detail matters in identity design, so make sure your brand stays true to its intent.
To ensure success, test, test, test. You'll want to check color and art reproduction for print, outdoor, television, electronic media and fabrics.
The best way to test-drive your identity before production is to create a document or file with all corporate colors, iterations of logos (positive/negative) and any commonly occurring graphics. Send the SAME document to all vendors and compare results.
Make modifications as necessary for each medium. For example, the same color blue may appear too green on a vinyl banner, so the blend should be adjusted or another color chosen for that media.
With careful planning and testing, your brand will be recognizable at a glance–whether from a Barcalounger in front of the TV, or from the front seat of a car at 65 mph!