Under The Influence
The anthology of healthcare marketing best practices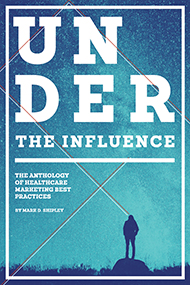 Healthcare marketers have no easy job. Hospitals and healthcare systems nationwide are facing a perfect storm: an increase in competition, consolidation, new healthcare delivery models and consumers changing the way they make decisions. Now, more than ever, it's essential to find a point of difference if you want consumers to choose you over the competition.
In our second book, we take the ideas, experiences, and expertise gained over the last 30 years in hospital marketing, and package them in a collection of insightful essays. The topics were selected to help uncover what makes your healthcare brand different from your competitors, and to help you develop strategies, messaging and content that will engage and inspire your audiences – whether that's an employer, referring physician, affluent baby boomer, or brand-savvy millennial.
Complete the form to download your free copy of "Under the Influence".
Published by Black Box Press Troy, NY
ISBN: 978-1-5439224-1-7
Copyright © 2017 Smith & Jones All rights reserved