Caroline Murray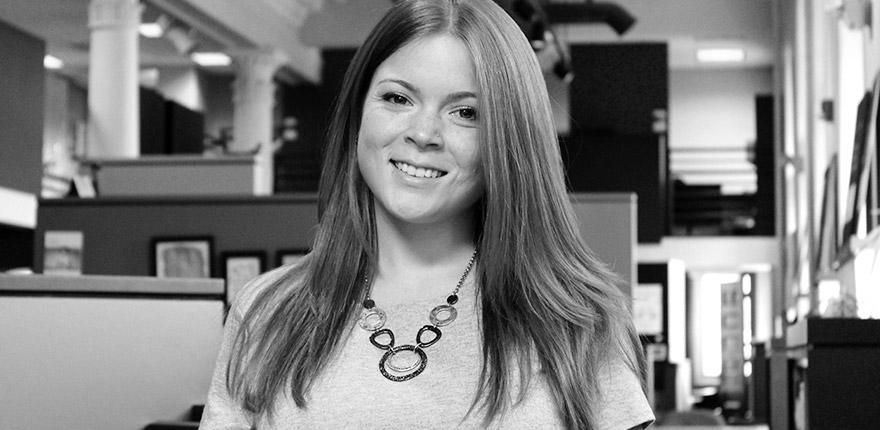 Three things that aren't immediately apparent when you first meet Caroline are her:
Chameleon writing skills

Unwavering enthusiasm

Courage
As our Inbound Marketing Specialist, Caroline is responsible for using words to inform and delight, paint pictures and tell stories that inspire people to take action. In any given hour, you may find her crafting a patient narrative, conceptualizing a campaign line, editing a news release, strategizing an automated email marketing campaign, researching an academic white paper, formalizing a conversion-optimized landing page, simplifying instructions for our latest marketing tool, editing keyword rich web copy, and/or writing a poem.
Caroline's ability to quickly tap dance around our writing stage comes as no surprise to her parents and life-long friends. Growing up, she participated in student government, drama club, ballet, writing, and spent most of her high school years performing in various musicals and dance showcases. In college, she joined the student newspaper while taking courses in creative writing, writing for new media, public relations, and advertising. When a professor approached her about publishing her work in a student anthology, she found her calling.
After interning at a travel magazine in New York City and the Hearst Corporation's Time Union newspaper, she landed a job as a reporter at a small-town newspaper where, among other things, she wrote about health and wellness. When we offered Caroline an entry level position at our hospital marketing agency, she jumped at the chance to leave news journalism and pursue a more creative career. We couldn't be happier she did.
When asked to sum up her career to date, Caroline proudly jokes that she's following the same path as Peggy from Mad Men (minus the booze, drugs, and other risky behavior).
A graduate of The College of Saint Rose, in her free time, Caroline enjoys running outside, daydreaming about her next trip abroad, mirroring the sleeping patterns of her two cats and reading about the NBA.